sAdhincenE O manasA | Arabhi | Adi
Posted by
dhanyasy
on Dec 12th, 2008 in
Podcasts
,
Selections from the Web
|
Comments Off

on sAdhincenE O manasA | Arabhi | Adi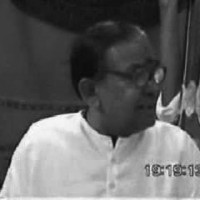 Song: sAdhincenE O manasA
rAgam: Arabhi
tAlam: Adi
Composer: Tyagaraja
Genre: Carnatic | Indian
Language: Telugu
Vocals: Vairamangalam Lakshminarayanan (Kalakshetra)
Violin: Pakkala Ramdas
Mrudangam: TR Sundaresan
Shri. (late) Vairamangalam Lakshminarayanan, Shri. Pakkala Ramdas, and Shri. TR. Sundaresan are teachers – from Kalakshetra – of Dhanya Subramanian. This is one of the few recordings of Shri. Lakshminarayanan available online. Thanks to navarasan, this recording has been sourced from YouTube (Original Recording, Courtesy of V. Radhakrishnan).
For YouTube Playlist (compiled by sdvenkat) see marquee area of this blog post. This playlist includes the following:
###