Arumukam (Tiruppugazh) | Kuntala Varali | Tisra Nadai
Posted by
dhanyasy
on Apr 23rd, 2010 in
Carnatic Podcasts
,
Learning
,
Students' Music Recitals
,
Tiruppugazh
|
Comments Off

on Arumukam (Tiruppugazh) | Kuntala Varali | Tisra Nadai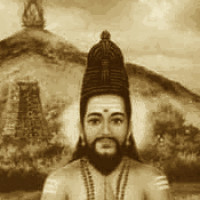 Song: Arumukam Arumukam (Tiruppugazh)
Ragam: Kuntala Varali
Talam: Tisra Nadai
Language: Tamil
Composer: Arunagirinathar
Event: April 17 2010 Guru Sishya Concert at Sanatan Dharma Kendra, Sunnyvale, CA
Artist(s):
Vocals: Dhanya Subramanian and Students»
Violin: Aravind Sheshadri»
Mirudangam: Balaji Mahadevan»
Lyrics:
ARumukam ARumukam ARumukam ARumukam
ARumukam ARumukam …… enRupUthi

AkamaNi mAdhavarkaL pAthamalar sUdumadi
yArkaL pathamE thuNaiya …… thenRu nALum

ERumayil vAkana kukA saravaNA enathu
eesaena mAnamuna …… thenRu mOthum

EzhaikaLvi yAkulam ithEthena vinAvilunai
yEvar pukazvAr maRaiyum …… ensolAthO

neeRupadu mAzhaiporu mEniyava vEla aNi
neelamayil vAka umai …… thanthavELE

neesar kada mOdenathu theevinaiyelA madiya
needu thani vEl vidu …… madangkal vElA

seeRivaru mARavuNan AviyuNum Anaimuka
thEvar thuNaivA sikari …… aNdakUdanj

sErum azhakAr pazhani vAz kumaranE pirama
thEvar varathA muruka …… thambirAnE.

Meaning:

After saying ARumukam six times, they take the Holy Ash (VibUthi)
and apply it on their bodies, the great sages;

their devotees prostrate before the sages' lotus feet;
such devotees' feet are the only solace to us.
Every day, (we pray to You saying) "You, the great peacock rider!
GuhA! SaravaNA! my God!

My dignity is entirely Yours" and we ask
"The mental anguish of ours, the poor souls –
why is it like this?" – Even then (if You are silent)
who will praise You?

What will the VEdAs speak about You?
Adorned with the holy ash on Your golden body,
Oh VELA! The rider of the beautiful blue peacock!
Oh MurugavEL, the son of UmAdEvi!

Along with the Asuras,
destroy my evil Karma too;
for that You fling Your long and unique Spear!
Oh, VELA, whose Spear is fierce like VatavAgni (the Cosmic Fire which destroyed the Universe once).

The giant asura (GajamukAsuran) came furiously
(before) the elephant-headed VinAyagA, who took the Asura's life – You are the younger brother of that VinAyagA!

With mountain peaks reaching the roof of the sky,
is beautiful Pazhani, which is Your abode, Oh KumarA!

You gave a boon to BrahmA!
MurugA! Oh Lord of Lords!

(Source: kaumaram.com)

###
Aravind Sheshadri (
violin
) is the grandson and disciple of Vidushi.Smt.A.Rajamma Keshavamurthy, Rajyotsava Awardee and renowned vocalist of Karnataka. He is the son & disciple of renowned violinist, Vidwan Sri.B.K.Sheshadri and has had advanced tutelage under Sangeetha Vidyasagara Violin Vidwan Late Sri.R.R.Keshavamurthy. He has been performing the past several years at various sabhas and organizations, such as DD Chandana and Kamat Group in Bangalore. He has accompanied many budding artists and have given violin duet concerts along with his father.
Powered by Hackadelic Sliding Notes 1.6.5
Balaji Mahadevan (
mirudangam
) had his initial training from Shri K.S.S.Mani (Chennai) for 8 years. He continued to learn from Shri Madhu Sudhanan, Chennai (disciple of Shri Karikudi Mani). Balaji has accompanied many leading artists in chennai and in US and has also played for many cassette / CD recordings and TV shows and he has been accompanying for various dance arangetrams and dance ballets. Balaji Mahadevan is a graded artist from All India radio, Chennai. He is also skilled in playing Tabla, Dhol, Thavil, Khol.
Powered by Hackadelic Sliding Notes 1.6.5