sree gananatha | malahari | rupakam
Posted by
dhanyasy
on Apr 23rd, 2010 in
Learning
,
Students' Music Recitals
|
Comments Off

on sree gananatha | malahari | rupakam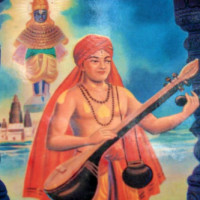 Song: sree gananatha (lambodara | geetham)
rAgam: malahari
tAlam: rupakam (Chathurasra Jathi)
Genre: Carnatic | Indian
Composer: Purandara Dasa
Language: Sanskrit
Event: April 17 2010 Guru Sishya Concert at Sanatan Dharma Kendra, Sunnyvale, CA
Artist(s):
Vocals: Dhanya Subramanian and Students»
Violin: Aravind Sheshadri»
Mirudangam: Balaji Mahadevan»
Lyrics:
Aro:
S R1 M1 P D1 S

Ava:
S D1 P M1 G3 R1 S

Pallavi:
Sri Gananatha Sindhoora Varna Karuna Saagara Kari Vadana

M P D S S R R S D P M P
R M P D M P D P M G R S

Lambodhara Lakumi -karaa Ambaa Sutha Amara Vinutha

S – R M G R S R G R S ,
R M P D M P D P M G R S

Charanam 1:
Siddha Chaarana Gana Sevitha Siddhi Vinayaka The Namo Namo

M P D S S R R S D P M P
R M P D M P D P M G R S

Charanam 2:
Sakala Vidyaadi Poojitha Sarvothama The Namo Namo

M P D S S R R S D P M P
R M P D M P D P M G R S

Meaning: (Source: Dr. Aruna Turaga):

Pallavi:
O leader of the pramada ganas, ("sri gana natha"), you are the color of vermillion ("sindhura varna"), and the ocean of compassion ("karuna sagara"). You have the visage ("vadana") of the mighty elephant ("kari") and a protruding belly ("lambodara"). You hold goddess lakshmi ("lakumi") in your hand ("kara"). O son of Parvathi ("amba sutha") you are worshipped by ("vinutha") the gods ("amara").
Charanam 1:
You have all the holy men at your feet ("siddha charana") and you are worshipped by the pramadha ganas who are the followers of lord Siva ("gana sevitha"). You grant your devotees all their wishes ("siddhi vinayaka") and I bow to you ("the namo ").

Charanam 2:
You are the first ("aadi") one to receive obeisance ("poojitha") when setting upon acquiring any kind of knowledge ("sakala vidhya"). You are the greatest one of all ("sarvothama") and I pray to you.

###
Aravind Sheshadri (
violin
) is the grandson and disciple of Vidushi.Smt.A.Rajamma Keshavamurthy, Rajyotsava Awardee and renowned vocalist of Karnataka. He is the son & disciple of renowned violinist, Vidwan Sri.B.K.Sheshadri and has had advanced tutelage under Sangeetha Vidyasagara Violin Vidwan Late Sri.R.R.Keshavamurthy. He has been performing the past several years at various sabhas and organizations, such as DD Chandana and Kamat Group in Bangalore. He has accompanied many budding artists and have given violin duet concerts along with his father.
Powered by Hackadelic Sliding Notes 1.6.5
Balaji Mahadevan (
mirudangam
) had his initial training from Shri K.S.S.Mani (Chennai) for 8 years. He continued to learn from Shri Madhu Sudhanan, Chennai (disciple of Shri Karikudi Mani). Balaji has accompanied many leading artists in chennai and in US and has also played for many cassette / CD recordings and TV shows and he has been accompanying for various dance arangetrams and dance ballets. Balaji Mahadevan is a graded artist from All India radio, Chennai. He is also skilled in playing Tabla, Dhol, Thavil, Khol.
Powered by Hackadelic Sliding Notes 1.6.5