Mangalam | Nada Nama Kriya | Adi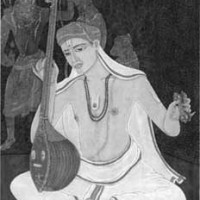 Song: Mangalam
Ragam: Nada Nama Kriya
Talam: Adi
Language: Telugu
Composer: Tyagaraja
Event: April 17 2010 Guru Sishya Concert at Sanatan Dharma Kendra, Sunnyvale, CA
Artist(s):
Vocals: Dhanya Subramanian and Students»
Violin: Aravind Sheshadri»
Mirudangam: Balaji Mahadevan»
Lyrics:
Aro:
N3 S R1 G3 M1 P D1 N3

Ava:
N3 D1 P M1 G3 R1 S N3

Pallavi:
jayamangalam nitya subha mangalam
jayamangalam nitya subha mangalam

Charanam 1:
mangalam avanisu- tanathuniki
mangalam aravin- dakshuniki
mangalam adbhuta- caritruniki
mangalam adi- devuniki
[jaya-]

Charanam 6:
rajasekhara- priyuniki mauni-
raja raja pu- jituniki tyaga-
raja vinutuni- ki varagaja-
rajadi bhakta- varaduniki
[jaya-]

Meaning (condensed):
May peace, success, and prosperity prevail eternally! May these visit, the spouse of SITA DEVI, possessing eyes charming as the Lotus!; One who follows an admirable code of conduct; One with a charming face and divine form; One worshipped by celestials;

..

One who is the friend of SIVA; one worshipped by sages and emperors; one who grants boons to devotees like GAJENDRA; to such a HARI, may peace, success and prosperity prevail eternally!

###
Aravind Sheshadri (
violin
) is the grandson and disciple of Vidushi.Smt.A.Rajamma Keshavamurthy, Rajyotsava Awardee and renowned vocalist of Karnataka. He is the son & disciple of renowned violinist, Vidwan Sri.B.K.Sheshadri and has had advanced tutelage under Sangeetha Vidyasagara Violin Vidwan Late Sri.R.R.Keshavamurthy. He has been performing the past several years at various sabhas and organizations, such as DD Chandana and Kamat Group in Bangalore. He has accompanied many budding artists and have given violin duet concerts along with his father.
Powered by Hackadelic Sliding Notes 1.6.5
Balaji Mahadevan (
mirudangam
) had his initial training from Shri K.S.S.Mani (Chennai) for 8 years. He continued to learn from Shri Madhu Sudhanan, Chennai (disciple of Shri Karikudi Mani). Balaji has accompanied many leading artists in chennai and in US and has also played for many cassette / CD recordings and TV shows and he has been accompanying for various dance arangetrams and dance ballets. Balaji Mahadevan is a graded artist from All India radio, Chennai. He is also skilled in playing Tabla, Dhol, Thavil, Khol.
Powered by Hackadelic Sliding Notes 1.6.5