akanda mandalAkaram | yaman kalyAni | slOkam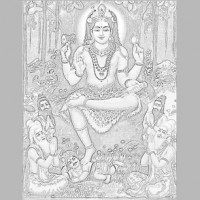 Song: akanda mandalAkaram
Ragam: yaman kalyAni
Genre: Carnatic | Slokam
Language: Sanskrit
Event: April 17 2010 Guru Sishya Concert at Sanatan Dharma Kendra, Sunnyvale, CA
Artist(s):
Vocals: Dhanya Subramanian and Students»
Violin: Aravind Sheshadri»
Lyrics:
Akhanda Mandala Karam
Vyaptam Yena Char-acharam
Tatpadam Dharshitam Yena
Tasmae Shri Gurave Namah

Agyana Timir-andasya
Gyanan-Jana Shalakaya
Chakhur-unmilitam Yena
Tasmae Shri Gurave Namah

Gurur Brahma Gurur Vishnu
Gurur Devo Maheshvara
Gurur Sakshat Param Brahma
Tasmae Shri Gurave Namah

Meaning:

I bow to the divine Guru, who reveals to one the divine Being that
encircles and permeates the moving and the non-moving.

###
Aravind Sheshadri (
violin
) is the grandson and disciple of Vidushi.Smt.A.Rajamma Keshavamurthy, Rajyotsava Awardee and renowned vocalist of Karnataka. He is the son & disciple of renowned violinist, Vidwan Sri.B.K.Sheshadri and has had advanced tutelage under Sangeetha Vidyasagara Violin Vidwan Late Sri.R.R.Keshavamurthy. He has been performing the past several years at various sabhas and organizations, such as DD Chandana and Kamat Group in Bangalore. He has accompanied many budding artists and have given violin duet concerts along with his father.
Powered by Hackadelic Sliding Notes 1.6.5