mathura sisha slokam | punnAga varAli | Adi
Posted by
dhanyasy
on May 2nd, 2010 in
Learning
,
Students' Music Recitals
|
Comments Off

on mathura sisha slokam | punnAga varAli | Adi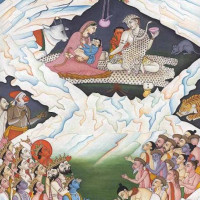 Song: mathura sisha
Ragam: punnAga varAli
Talam: Adi
Genre: Carnatic | Slokam
Language: Sanskrit
Event: April 17 2010 Guru Sishya Concert at Sanatan Dharma Kendra, Sunnyvale, CA
Artist(s):
Vocals: Dhanya Subramanian and Students»
Violin: Aravind Sheshadri»
Tabla: Balaji Mahadevan»
Lyrics:
I

maathuraa sishaa vandithaa bhuvi
sandhi heenaro nandithaa dhivi ..

paalithos myaham sodare thvayaa
paalithos myaham swastha nethvayaa ..

sishura hamyatha keli lampada
nasrutham mayaa thetha daavachaa ..

sikshane mamaa nachaka thaaruchi
saathvayaa krutha vardhi thaamathy ..

II

bala vardhanam kashta dayakam
manya sethuthaa raksha karanam ..

roga peeditho yathkadha pyaham
seva serthadaa maama harnisham ..

vismaraa myaham thekatham kritham
mathkruthe sadaa prema samyutham ..

pasyasee gunam sarvathaa mama
bhava gunathume mokshase katham ..

III

kadha mayaarchanam vandanam krutham
thavacha keerthanam paada sevanam ..

janani thevyaham sarva daaruni
bhakti raschune nischalaa thvayi ..

maathari naro daiva meekshathe
sarvatho pitham sahani neekshathe ..

maathari naro daiva meekshathe
sarvatho pitham sahani neekshathe ..

###
Aravind Sheshadri (
violin
) is the grandson and disciple of Vidushi.Smt.A.Rajamma Keshavamurthy, Rajyotsava Awardee and renowned vocalist of Karnataka. He is the son & disciple of renowned violinist, Vidwan Sri.B.K.Sheshadri and has had advanced tutelage under Sangeetha Vidyasagara Violin Vidwan Late Sri.R.R.Keshavamurthy. He has been performing the past several years at various sabhas and organizations, such as DD Chandana and Kamat Group in Bangalore. He has accompanied many budding artists and have given violin duet concerts along with his father.
Powered by Hackadelic Sliding Notes 1.6.5
Balaji Mahadevan (
mirudangam
) had his initial training from Shri K.S.S.Mani (Chennai) for 8 years. He continued to learn from Shri Madhu Sudhanan, Chennai (disciple of Shri Karikudi Mani). Balaji has accompanied many leading artists in chennai and in US and has also played for many cassette / CD recordings and TV shows and he has been accompanying for various dance arangetrams and dance ballets. Balaji Mahadevan is a graded artist from All India radio, Chennai. He is also skilled in playing Tabla, Dhol, Thavil, Khol.
Powered by Hackadelic Sliding Notes 1.6.5