syAmalE meenAkshi, 09Apr11
Posted by
dhanyasy
on Apr 10th, 2011 in
Learning
,
Students' Music Recitals
|
Comments Off

on syAmalE meenAkshi, 09Apr11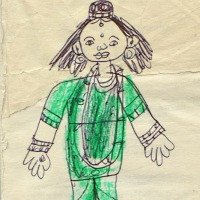 Song: syAmalE meenAkshi
rAgam: sankarAbharanam
tAlam: Adi, tisra Nadai
Composer: Muthuswamy Dikshitar
Genre: Carnatic | Indian
Language: Sanskrit
Event: April 09 2011 Sri Rama Navami Bhajan Recital at Sanatan Dharma Kendra, Sunnyvale, CA
Artwork: Vismaya Gopalan
Vocals: Dhanya Subramanian and Students»
Violin: Aravind Sheshadri»
Jalra: Shankar Nair, Sarasvani Ramadoss»
Lyrics / Notation:
shyAmaLE mInAkSi sundarEshvarasAkSi
shankari guruguhasamudbhavE shivEvA

pAmaralOcani pankajalOcani
padmAsanavAsini hari lakSmivinutE shAmbhavi

(source: karnatik.com)
Aravind Sheshadri (violin) is the grandson and disciple of Vidushi.Smt.A.Rajamma Keshavamurthy, Rajyotsava Awardee and renowned vocalist of Karnataka. He is the son & disciple of renowned violinist, Vidwan Sri.B.K.Sheshadri and has had advanced tutelage under Sangeetha Vidyasagara Violin Vidwan Late Sri.R.R.Keshavamurthy. He has been performing the past several years at various sabhas and organizations, such as DD Chandana and Kamat Group in Bangalore. He has accompanied many budding artists and have given violin duet concerts along with his father.
Powered by Hackadelic Sliding Notes 1.6.5