About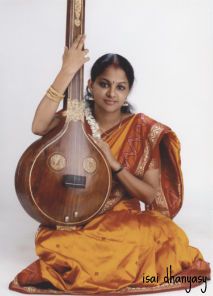 dhanyasy.org is the primary website of Dhanya Subramanian – music teacher, singer, and a gold-medalist alumnus of Kalakshetra, Chennai.
A native of Thrissur (Kerala), Dhanya began her musical career at the age of five under the tutelage of Sri. R. Vaidyanathan, disciple of Alathur Brothers. In 1996, her musical pursuits took her to the prestigious Kalakshetra in Chennai, where she studied carnatic classical music – majoring in vocal and minoring in violin.
As part of her 5 year gurukulavasam at Kalakshetra, Dhanya received her initial training under Sri. Hariprasad, disciple of Dr. Balamuralikrishna. Following her initial training, she was fortunate to receive advanced training from Smt. Bhushany Kalyanaraman, disciple of Sri. Tanjore S. Kalyanaraman, and Sri. Pakkala Ramadas, disciple of Lalgudi G. Jayaraman.
Dhanya is a recipient of annual music scholarships from the Govt. of India.  She has contributed to advanced study initiatives on the works of Sri. Mysore Vasudevachar and has a Bachelor's degree in Carnatic Vocal from the University of Madras.
Dhanya presently lives in San Francisco Bay Area with her husband and daughter.  She teaches carnatic music (vocal), locally in-person and online through (skype) video conferencing.
If you would like to get in touch with Dhanya Subramanian, please fill out and submit this contact form. Thank you!