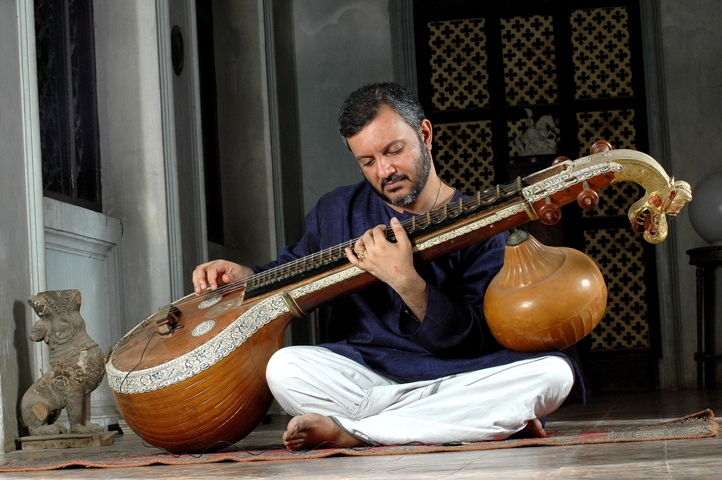 [Below is sourced from the article, "Royalty's humble face", by Deepa H. Ramakrishnan. Openness to different streams of music is what sets Carnatic musician Prince Ashwathi Thirunal Rama Varma apart. The Hindu, Saturday, Feb 26, 2005]
SINGLE AND 36, he is a very eligible bachelor. A smart and handsome musician, he is a direct descendent of Maharaja Swathi Thirunal Rama Varma and shares the name of the king-composer. Prince Ashwathi Thirunal Rama Varma prefers to be called anything other than his royal name. You can call him Ram or Mr. Varma and he will respond to you, for he has no airs about being a prince!
In Auroville, where he gave a kutcheri-cum-lecdem on Carnatic music and Maharaja Swathi Thirunal, he cracked jokes and even sang a French song, which the audience could relate to.
"I don't believe that just practising 10 hours a day can improve one's musical skill. It is the entire personality that counts. Reading, meeting people, travelling, eating various kinds of food — exposure to different cultures influences your musical ability," he said.
Music appreciation
Listening to and appreciating other kinds of music help define Carnatic music. "Suppose you are a Carnatic violinist and you haven't heard Paganini, you would never imagine the scope, the brilliance or the range of the wonderful instrument you are playing. I am not saying that you should play Bhairavi Raga like a Paganini composition but somehow exposure to other composers adds another dimension to your music.
For instance, at a concert in the Sri Aurobindo Ashram school, apart from the usual traditional South Indian Classical repertoire, I sang a Bengali song composed by Tagore in honour of Aurobindo's Bengali origins. And it received a lot of appreciation. I felt grateful that I was blessed with a mind that was open enough to explore, appreciate, imbibe and celebrate a genre of music like Rabindra Sangeeth though I am essentially a Carnatic musician," explained Prince Rama Varma.
Languages and lyrics
He also stressed the need to learn different languages since singing the lyrics properly is as important as improvising. "We have such a sophisticated system of improvisation in Indian classical music but musicians over the decades have been giving less importance to the lyrics, which form the core of our music. It was after I studied French and discovered the amazing poetic works of people like Jacques Brel from Belgium and Georges Brassens from France that I started paying more attention to the lyrics of our own compositions. And thereby discovered the mind-blowing genius, the poetry and the philosophical content of composers such as Annamacharya, Purandaradasa, Maharaja Swathi Thirunal and M. Balamuralikrishna (under whose tutelage he is at present).
"Though Maharaja Swathi Thirunal lived some 200 years ago, he mastered both the Carnatic and the Hindustani systems of music and went on to make a mark as a composer in both. Nearly two centuries ago, he had the vision and curiosity to learn languages like Persian and Vrajbhasha. And so, even he had an open mind. As an adult I realised that I had several things in common with him and consider it a blessing," he says.
Born on August 13, 1968, Prince Varma fell in love with music and grew up listening to maestros who performed regularly at the Navarathri Mandapam in Thiruvananthapuram and the constantly updated collection of LP records of Hindi film music owned by his father and sister. He started formal lessons in music in 1982 from Vechoor Hariharasubramania Iyer, a senior disciple of Semmangudi Srinivasa Iyer, who continued to teach him until his demise in 1994. He also studied the Saraswathi veena under Trivandrum R. Venkataraman for five years and later under K. S. Narayanaswamy.
A postgraduate in Commerce, Prince Varma started giving public concerts in 1990 mainly due to the encouragement and support he recieved from T. V. Gopalakrishnan. His first CD was released at The Queen Elizabeth Hall, South Bank Centre, London and he has performed at some of the most prestigious venues in Europe like the Zuiderpershuis in Belgium, The Royal Tropen Institute, Amsterdam and The Korzo Theatre in The Hague, to mention a few.

More on Prince Aswathi Tirunal Rama Varma:
Website created by his fans
Wikipedia entry
Prince Rama Varma's channel on YouTube