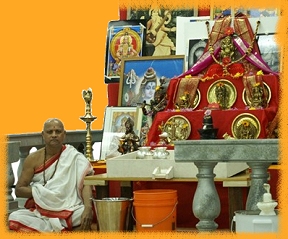 What:
dhanyasy.org
2010 annual day (guru-sishya) concert
When:
Saturday · April 17, 2010 @ 5:30pm PT
Where:
Sanatan Dharma Kendra
897 Kifer Rd, Suite #1
Sunnyvale, CA 94086-5215 USA

Vocals:
Students of Dhanyasy School of Music
Please see program handout

Accompanied by:
Violin: Aravind Sheshadri
Aravind Sheshadri (violin) is the grandson and disciple of Vidushi.Smt.A.Rajamma Keshavamurthy, Rajyotsava Awardee and renowned vocalist of Karnataka. He is the son & disciple of renowned violinist, Vidwan Sri.B.K.Sheshadri and has had advanced tutelage under Sangeetha Vidyasagara Violin Vidwan Late Sri.R.R.Keshavamurthy. He has been performing the past several years at various sabhas and organizations, such as DD Chandana and Kamat Group in Bangalore. He has accompanied many budding artists and have given violin duet concerts along with his father.

Mridangam: Balaji Mahadevan
Balaji Mahadevan (mridangam) had his initial training from Shri K.S.S.Mani (Chennai) for 8 years. He continued to learn from Shri Madhu Sudhanan, Chennai (disciple of Shri Karikudi Mani). Balaji has accompanied many leading artists in chennai and in US and has also played for many cassette / CD recordings and TV shows and he has been accompanying for various dance arangetrams and dance ballets. Balaji Mahadevan is a graded artist from All India radio, Chennai. He is also skilled in playing Tabla, Dhol, Thavil, Khol.

Event Details: